Hello Everyone,
Thank you for reading the Tornado Traffic Weekly News.
This newsletter is posted every Monday to keep you informed of
what is happening at Tornado Traffic for the upcoming week.
Your comments, support and upvotes are very much appreciated!
You can also read and comment at the CTP Talk
on the Hive Block Chain!
I will upvote your comments and you can earn some Crypto. When was the last time
you got paid for liking or commenting a post on Facebook or Twitter?
Happy Memorial Day!
Today is Memorial Day in the United States and I wanted to take
a moment to share some information about this important holiday.
Memorial Day is a federal holiday in the United States that is
observed on the last Monday of May each year. It is a day to honor
and remember the men and women who have died while serving in the
U.S. military.
The holiday has its roots in the aftermath of the Civil War,
when communities across the country began holding ceremonies to honor
the fallen soldiers. Over time, the holiday became a national observance,
and today it is marked by parades, ceremonies, and the placing of flags
on the graves of fallen soldiers.
As we enjoy the long weekend and spend time with our loved ones,
let us also take a moment to reflect on the sacrifices made by those who
have given their lives in service to our country.
Thank you for taking the time to read this email, and I wish you a safe
and meaningful Memorial Day.
Brand New Tech Created by Maryann Myers
You can now get double traffic and see two sites FULLY viewed,
seemlessly one at a time with YMC Empire.
You can display all the programs that you belong to.
This amazing, never seen before "double surfer"
literally doubles your traffic, it's amazing!
You can also make money with our generous commissions.
All membership levels get surf credits every month.
This is a hand crafted, top quality website for you to use.
YMC Empire also has 1 of a kind (easy) games on it too!
Come on, go get your double visits today, because it's
giving out monthly visits just for being a member.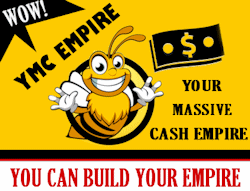 Daily Promo Partners for This Week
Monday 5/29
Euro Hits 4 U and Windpower TE
Tuesday 5/30
Clickroads TE and Traffic Pirate Hits
Wednesday 5/31
This date available for your Traffic Exchange!
Thursday 6/1
Hummingbird Hits and Royal Flush TE
Friday 6/2
Spy Bubble Power, Dolphin Clicks and The Hit Hound
Saturday 6/3
A Team Traffic and The Hit Zoo
Sunday 6/4
Red Stag Hits, Tweetyfied Surf and Wizard TE
Weekly Promo Code
Thank you for reading my weekly newsletter.
Here is a special newsletter promo code worth 250 credits,
banner and text ad impressions, weekly52964 Enter the code and
surf just 97 pages at Tornado Traffic to receive your Bonuses!
To Our Mutual Success,
Steven Ackerman