Hello Everyone, This Is Michael The Traveling Trucker. Today's adventure is: Changing Your Thoughts.
From the movie Short Circuit, Number 5 wanted more input. Couldn't get enough information. He really wanted to change. We could really take lessons from this.
Mention: https://pixabay.com/images/search/robotics/
How much do YOU really want to CHANGE your mindset? Going from an unhappy, unfulfilled, and negative mindset, to a Positive, happy, totally fulfilled lifestyle. It's about training YOUR mind to do simple tasks each day until they become a HABIT. 10 minutes a day. Yep, just 10 minutes.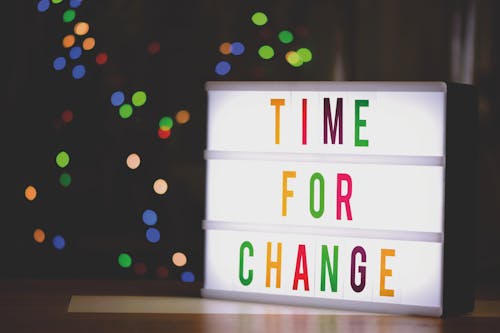 I began reading a book from my Dear Friend, Mentor, and Business Coach JANET LEGERE. Get Stuck On Happy-30 Ways to Change Your Thoughts and Live a Happier Life. Janet's passion for life, her easy style of teaching, writing, and Mentoring, has helped me on my journey to improve my thoughts and habits to always reflect the positive.
I love the GRATITUDE JOURNAL. This is a 30 day journal for writing down 3 things each morning, you are grateful for. Then 3 things at night you are grateful for. Then reflect back daily at your journal's past days entries.
This might sound funny to some: There is a breathing technique. I personally have been doing this for years, so I understand the calming affect it has on your mind and body. It helps your whole being to quite the negative thoughts and refocus on the positive.
When you look around your house, DO YOU SEE HAPPY? I mean, do you smile often at the things ( pictures, flowers, stuffed animals, books, etc) around your house? Do the memories from these things bring a positive, happy smile to your day? If not, then begin today to fill your house with a positive, happy mindset. Look at these WORDS BELOW. Take 1 minute right now: Reflect on how they calm you, help you focus on the positive side of your SPIRIT.
Mention: https://pixabay.com/images/search/positive%20words/
Now Picture YOUR perfect moment. What do you see? Where are you? What are you doing? What are you wearing? What's the weather outside? Who is with you? What can you smell? What can you you hear? How do you feel?
Moments fill us with joy and happiness. Waiting for the perfect moment may take to long- Create YOUR HAPPY MOMENTS yourself and enjoy!
VISIT My Personal Business Choices
FOR ALL MY COOKING FRIENDS CLICK HERE