Hello Everyone, Michael The Traveling Trucker. I like role models. I have sought out a few to follow because I truly like what they stand for.
Remember that role models can be positive or negative.
Mention: https://www.rootsofaction.com/role-model/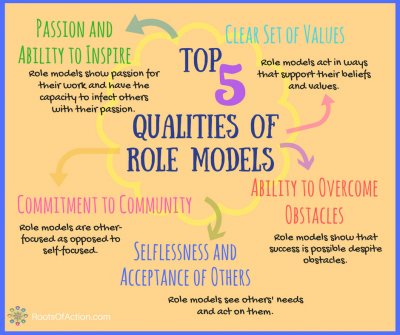 Visibility plays an important part in making someone a role model. People who are honest in dealing with others. They always uplift people. They are helpful in instructing others.
5 Qualities of Positive Role Models– Passion and Ability to Inspire, Clear Set of Values, Commitment to Community, Selflessness, and Acceptance of Others, Ability to Overcome Obstacles.
When- did you notice I said, WHEN you create your own success, you will become a role model. Be willing to stand strong on your beliefs, gently guide others, setting the standard for your brand of excellence.
Mention: https://www.gettyimages.com/photos/role-model
I believe we have gotten away from good role model examples, they are still there if you are willing to research them.
Most of us don't come equipped with a clear set of ethical standards on our own. We receive lessons from others, to a certain extent, but it's more likely that we acquire our moral sense through vicarious processes.
Mentors are a second source of learning to be ethical leaders. When they take us under their wing, those who guide us in the workplace, or even those who work side-by-side as co-workers with us show us, again through vicarious learning, that we ourselves need to be honest and fair in our dealings with others.
When you play fair, communicate directly, and in general demonstrate that you hold high standards, other people actually do look up to you. 
If for no other reason than to be liked and respected, taking the moral high ground may be the one that ultimately benefits you as well as those who look up to you as their inspiration. 
Be the best you can be daily. Talk to yourself in the mirror, tell yourself great things each day, before you tell anyone else anything. Set the standard HIGH, people will respect you for the stand you take.
Be The Role Model You Respect